Steering Committee Meeting 4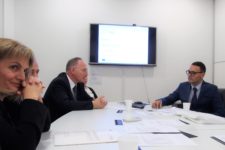 On 24 March 2017, the fourth Steering Committee Meeting of the Twinning project "Improvement of Quality of the National Cancer Screening Programmes Implementation" took place in the Ministry of Health. The aim of the meeting was to discuss the activities undertaken during the fourth quarter of the project implementation covering the period from 2 December 2016 to 31 March 2017, and the contributions of the Twinning project to the Beneficiary country.
Ms. Dinka Nakić, BC Project Leader, opened the PSC meeting of the Twinning Project and welcomed colleagues from Lithuania and Slovenia, CFCA, Ministry of Health, Croatian Institute of Public Health and Ministry of Regional Development.
The Resident Twinning Advisor g. Giedrius Vanagas presented the information on the activities performed during this reporting period. The RTA reported that the project activities during this period were carried out according to plan.
For more information on the meeting read the presentation made by prof. Vanagas: Prezentacija_CRO screeningPSC4_prof Vanagas
This post is also available in: Hrvatski English